Vision & Mission
Vision
The Chamber holds the view that the role of the Government is vital for creating a new and resurgent Bihar. Time has now come for the people's representatives to keep aside their political considerations and differences and support people's aspirations for economic growth and prosperity. This could be achieved only though firm political will and strong bureaucratic support to make Bihar at par with the developed States of the country. It is our vision that the key to develop an economically sound Bihar lies in the hands of entrepreneurs and traders, and the Government can only assist them. There is a strong need to develop entrepreneurial culture in Bihar, and the entrepreneurs need to be made aware that they face stiff competition in bringing the State at the fore-front of economic development in India. With its vast natural resources and hardworking workforce, our State has all the capabilities to achieve industrial and commercial success. The people of Bihar have already proved their mettle by contributing immensely to the success of the other states in the country.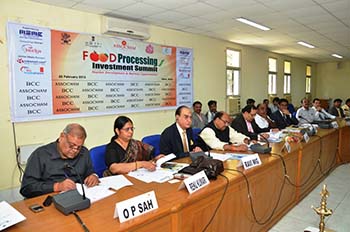 To change the destiny of an erstwhile "BIMARU" (sick) Bihar, the present State Government had made several resolutions at the time of its constitution. It had resolved to establish the rule of law, along with peace and social harmony, and to usher in development with justice. The government wanted to restore Bihar to its glorious past by providing a new identity to its people and establishing good governance on the ruins of a crumbling administrative machinery. It is a matter of immense satisfaction that the Government has tried to discharge this responsibility with utmost care and responsibility. It has worked non-stop to ensure all round development the State, and has made considerable progress in establishing peace and social harmony, and affirming the writ of the State.
Bihar is truly on the road to economic transformation, with hope that it will become a developed State by 2015. The Bihar Chamber of Commerce stands steadfast with the 100 million people of Bihar to achieve this goal.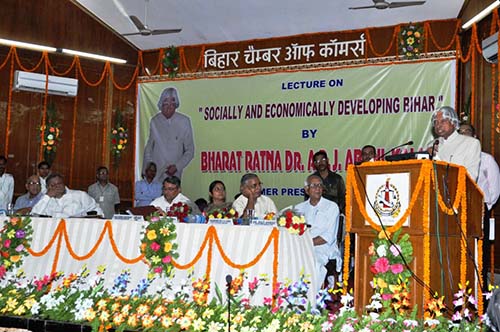 At the concluding ceremony of Bihar Chamber of Commerce, the then President of India Bharat Ratan Dr. A. P. J. Kalam had advised the Chamber – to prepare Creative Leaders. Making this advice the top agenda of its Vision, the Bihar Chamber of Commerce is striving hard to prepare Creative Leaders in the fields of trade and commerce.  
Our Mission
To lead the economy of Bihar on the path of all round growth and development.
To extend assistance to the Government to formulate well-researched policy positions that, reflect and promote the interests of trade and industry in Bihar.
To influence the Government policies in a positive, visible, consistent and representative manner.
To facilitate the members of the Chamber by holding consultations, conferences, seminars, open-house workshops and by providing them access to relevant and necessary information.
To encourage national and overseas business delegations to visit Bihar to promote development of trade and industry as well as to bring new technologies to the State. The mission of the Bihar Chamber of Commerce is strictly based on the following golden verses of Shrimad Bhagvat Gita :-
कर्मण्ये वाधिकारस्ते मा फलेषु कदाचना ॥
मा कर्म फलहेतुर भुर्मतेय संगोस्त्वाकर्मणि॥