Release of Postal Stamp
The Bihar Chamber of Commerce is the first Chamber in the entire country to get this honor.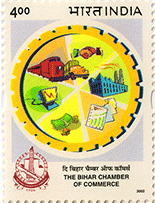 The day of 28th October, 2002 is historic one for the Chamber as on this day The Department of Posts, Government of India, released a Postage Stamp on Bihar Chamber of Commerce to commemorate its Platinum Jubilee Year. The stamp was released by the Chief Postmaster General, Bihar in a grand function organized in the prestigious Sahu Jain Hall of the Chamber. The stamp release function was graced by a large number of dignitaries from across the society besides several Cabinet Ministers of the State Government. The commemorative set of the stamp included its First Day Cover, and a Brochure containing introduction and achievements of the Chamber besides the stamp itself.
A commemorative stamp is a postage stamp, issued on a significant date such as an anniversary, to honor or commemorate a place, event, person or organization. The subject of the commemorative stamp is usually spelled out in print, unlike definitive stamps which normally depict the subject along with the denomination and country name only. Many postal services issue several commemorative stamps each year, sometimes holding first day of issue ceremonies at locations connected with the subjects. Commemorative stamps can be used alongside ordinary stamps. Unlike definitive stamps that are often reprinted and sold over a prolonged period of time for general usage, commemorative stamps are usually printed in limited quantities and sold for a much shorter period of time, usually until supplies run out.
It would be pertinent to mention that The Bihar Chamber of Commerce is the first Chamber in the entire country on which a postage stamp was released by the Government of India, which is a history in itself.
Presiding the function, the then President of the Chamber, Shri O. P. Sah expressed gratitude towards the Government of India for bestowing the Chamber with a rare and befitting honor. In his Presidential address he said that conferring of such a great honor to Bihar Chamber of Commerce would ignite enhanced zeal, courage and commitment in Bihar Chamber of Commerce for extending greater services to the entire society besides championing the causes of trade and industry.
He lauded the efforts of his predecessor Shri Harihar Nath for ensuring the release of the commemorative postage stamp on Bihar Chamber of Commerce. He also extended thanks and gratitude to Shri P. K. Agrawal, a Former President of the Chamber and the Convener of the Platinum Jubilee Celebrations Committee for visualizing the concept of the release of a stamp on Bihar Chamber of Commerce and contributing richly for making it possible.